Holiday appartment "chez Antoinette et Mimi": description


The appartment consists of a stone house in the village of Zicavo, next to the owner's home.
The living space is 65m² (78yd²) for the two floors, it includes a kitchen, a living room, bathroom and toilet on the ground floor and two bedrooms (each with a double and a single bed) on the first floor.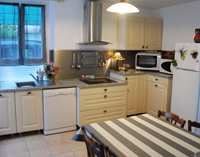 It is equipped with a washing machine, a microwave oven, a freezer, a television a telephone, a cot, a high chair etc...
It is possible to hire bed linen and towels. The cost of heating is supplementary.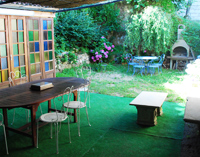 Outside there is a private garden of 50 m² (60 yd²) equipped with garden furniture. There is also private parking space and a garage which contains up to 6 motorcycles.
We are open all year round.
Other equipment can also be provided upon request (baby changing table etc...)