Holiday appartment "chez Antoinette et Mimi": presentation
Zicavo is the administrative center of the Haut Taravo Valley in Southern Corsica. It is a village in the mountains but, as is the case everywhere in Corsica, the sea is never very far away (approximately one hour's drive).
An access road goes directly to the famous GR20 and to all the other mountain hiking routes. Zicavo's local "mountain" is the Cuscionu plateau, which are summer pasturelands for the herds of the last of the shepherds. The mountain shelters (refuges) sometimes host barbecues of whole spit roasted sheep. Here is a real fisherman's and hunter's paradise (trout, wild boar, wood pigeon, woodcock...).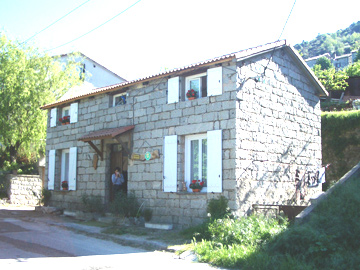 In the spring the Taravo is one of the best places for Kayaking, and amateurs come from all over Europe to experience its waterfalls whilst taking in the breathtaking scenery.
A line or two for (motor) bikers who are starting to know this address and who are more than welcome (garage available for 6 motorbikes).
The gite is chaperoned by "Gites de France", it can serve as a home base from which you can take advantage of these activities or simply discover the rest of the island, the scenery, the local gastronomical cooking, and the traditional Corsican hospitality perfectly represented by Antoinette and M